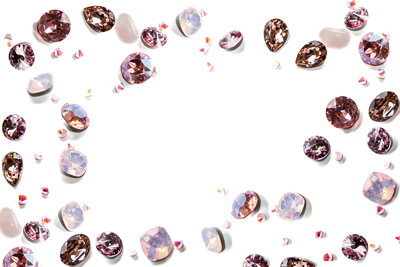 Is it already fall? If you're like us, it feels like it's been a long year, but we're looking forward to cooler weather and hopefully a more mellow remainder of the year. We love getting excited about pumpkin spice everything, changing leaves, and sweater weather.
If you're looking for some ways to decorate the house for the season, or simply need a new at-home project, we've put together some great crafts that are easy, pretty, and best of all, sparkly!
Canning Ring Pumpkin
You may have a bunch of old canning rings lying around, in which case this is the perfect project for repurposing. If you don't have any to spare, you can buy canning rings separately (you'll need about 12).
Don't worry if your rings are rusty or different colors—you can paint them or just let them have a rustic charm. You'll also need:
· Pipe cleaner or wire
· Cinnamon stick
· Twine
· Paint (optional)
· Rhinestones
Paint your rings before assembling, if you choose to. Arrange the canning rings vertically and in a circle, which will be the body of the pumpkin. The trickiest part is getting the pipe cleaner or wire wrapped around the inner part of the ring to keep them secure. It should be fairly tight.
You can add rhinestones to the outer edges of the "pumpkin." We're also going to add a cinnamon stick stem, which you can glue in place. Feel free to bling out the stem as well. Tie a piece of twine around the stem to top it off, and let this charming craft become a table centerpiece.
Rhinestone Candy Corn Art
Who doesn't love candy corn? Okay, so maybe it's not everyone's favorite candy, but it's a symbol of the season. With just a few simple items, you can create hanging framed art for your home.
If you have a small canvas, that's a great base, but you can also use cardstock paper as your base. We like the idea of a spooky black background for Halloween, but any solid background color will work.
Print a candy corn template or draw the shape freehand on your background material. The bottom third will be orange rhinestones, the middle is yellow, and the top is white.
You can get really creative with your rhinestones. Use a combination of sizes, and if possible, use varying shades of color to create some variety. Place rhinestones in the candy corn shape until it is full.
Put your art in a frame (without glass) and hang it someplace where you want to bring some sweet cheer into the room.
Leaf Stencil Jars
We love the versatility that comes with mason jar projects. You can fill them with anything, decorate them how you want, and they are totally easy to bling out. For this stencil and rhinestone project, you'll need paint, a pint-sized (or larger) mason jar, a silk leaf, and rhinestones.
Use a piece of scotch tape to lightly stick a leaf to the side of the jar. Feel free to use multiple, but the idea is to leave a silhouette of the leaf on the jar. When the leaf is in place, paint around the edges and paint the rest of the jar.
Gently peel away the leaf, which will leave some glass exposed in a pretty leaf shape. From there, it's rhinestone time! Use your favorite rhinestones to create sparkly patterns of the jar.
It can be used for candles, floral arrangements, fairy lights, candy, or whatever else you can think of.
Bling Leaf Bowl
A bowl made out of leaves? You read right. With a few simple materials (and rhinestones!), you can make a charming bowl for holding candy, keys, or odds and ends, and it's something the kids can help with too.
You'll need the following:
· Silk autumn leaves
· Mod Podge and paintbrush
· Ballooon
· Rhinestones
Creating the bowl is a pretty simple process. You'll want to first blow up a regular-sized balloon and tie it off. Don't overfill the balloon because you'll need it to stay stable for a little while—you'll pop it intentionally later.
Set aside a bowl of Mod Podge for easy access, and lay down some newspaper to prevent mess. If you've never worked with this before, note that you can't use regular glue as a substitute.
Apply a layer of Mod Podge with a paintbrush to one side of a leaf and adhere it to the top end of the balloon. Repeat this process with other leaves and slightly overlap leaves to create a bowl shape. Paint Mod Podge over the entire outer surface of the leaves to seal everything and make sure the leaves stick together. Wait for it to dry and paint a second layer—it will dry clear.
When you're happy with the bowl shape and everything is dry, pop the balloon and peel it away from the inside. Carefully apply rhinestones to the inner and outer edge of the bowl to add some sparkle.
Sparkly Pinecone Wreath
A pinecone wreath is easy, festive, and makes great use of the pinecones scattered across your yard.
You'll need:
· Wire wreath frame
· Pinecones
· Paint (optional)
· Rhinestones
· Ribbon (optional)
· Glue
The first step is to create the wreath by filling the frame with pinecones. Work carefully, and glue each pinecone in place. You'll want to fill the frame entirely and cover all of the frame wires.
From there you can paint the tips of come of your pinecones if you'd like, but you'll also apply your rhinestones. Rhinestones can be used on the pinecone tips to create patterns and sparkly accents.
To finish the wreath, add a ribbon and bow to the top, and add rhinestones to the bow for some extra pizazz. Hang and enjoy!
Celebrate Fall With the Rhinestone Shop
Authentic Swarovski crystal rhinestones will make your project sparkle. We have a large selection of rhinestones, nailheads, fasteners, tools, and more. Be sure to check out our expanding inventory and get a head start on the holiday crafting season.