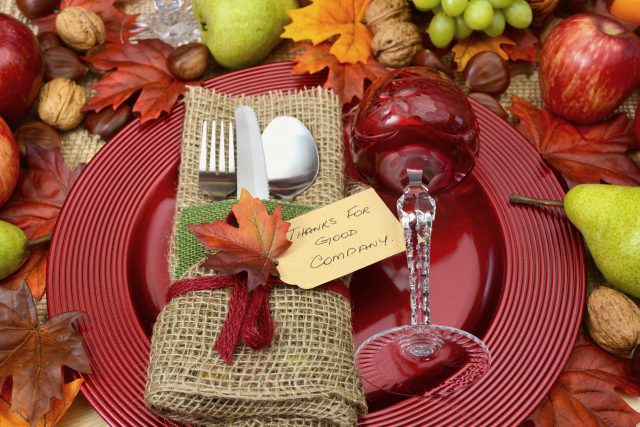 Now that we're officially into the swing of fall, we're absolutely ready to face our families and stuff our faces for Thanksgiving, followed by a nice relaxing post-meal in comfy yoga pants. But before we can get to yoga pants, we have to actually prepare for Thanksgiving, and part of that means assembling a beautiful table.  
 We've got some great ideas for ways to add rhinestones to your Thanksgiving table that will wow your guests.  
Rhinestone Chargers 
A quick and easy way to "fancy-up" a place setting is to add a charger. You may be familiar with a charger even if you didn't know the name. A charger is the decorative plate underneath the plate you actually eat off of. Usually these are used in formal occasions.  
Chargers can be found online or at many home goods stores. The best part about chargers is that you don't need to spend a lot of money on them, and you can easily change the colors to match the theme of your table if you can't find exactly what you're looking for—after all, these aren't for eating off of.  
Once you have found the chargers you like, paint the outer edge to the color that best complements your table theme. You can always go with traditional fall colors of golds, browns, and reds, but don't be afraid to try something different like a blue or a sage color.  
Finally, it's time for rhinestones. You can choose the shape of rhinestone that best fits the existing pattern of the charger, and it's good to choose either a matching or complementary rhinestone color. Remember: flat-backed!    
 Gorgeous Table Runner 
A table runner is an easy addition to a table that looks elegant without taking up a lot of table space, and it's not necessarily a project that's just for people who know how to sew.  
You can purchase table runners at many home stores, which can easily be embellished with sew-on rhinestones. Sew-on rhinestones will be generally more secure in the event that you ever have to wash your table runner.  
Alternatively, you can sew your own table runner, making sure it's about 15 inches wide and hangs about a 12-15 inches off of the table at both ends. Create pointed ends if desired. The color of your table runner can be offset from the color of your tablecloth.  
You can use a variety of fall colors for your table runner, which means you can use it all season, or you can make it specific to a particular color scheme—it's up to you! 
One approach that we love for table runners is using a mix a shapes to create an interesting and intricate pattern. For a particularly fall touch, check out our leaf-shaped rhinestones! 
Fall Foliage Gilded Centerpiece 
Make a dramatic statement with this gilded centerpiece. For this project, you'll need to assemble: 
Vase or 

upcycled

 jar

 

Gold acrylic paint

 

Artificial fall 

leaves on branches

 

Flat-backed rhinestones

 

Adhesive

 
First things first, paint your vase or jar gold. This is definitely going to be your focal point on the table, and you'll want full coverage on your vase. Once the paint has fully dried (it may take a few hours), you can then start to add your rhinestones. This could be simply a small pattern, a row at the top of the vase, or a base. But as with most projects, you can do what feels right. Just remember that you're already working with a gold base to start.  
To finish your centerpiece you'll arrange your branches of leaves to your vase, trimming the bottoms to fit as needed. Oranges and reds will provide a bright contrast to the gold of your vase.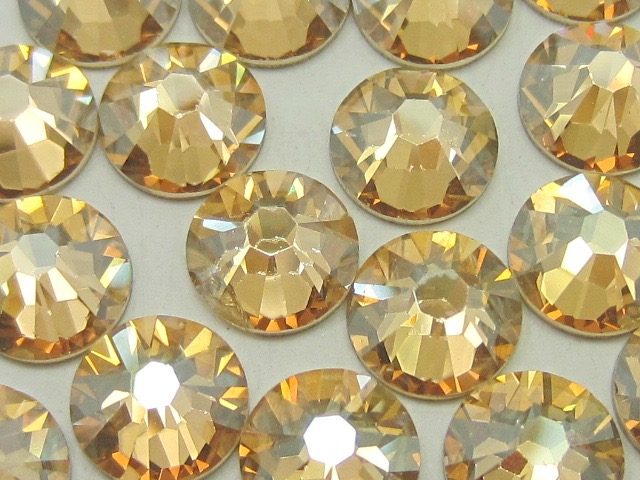 Bling Name Plates 
These adorable place settings add a touch of sparkle to your table (or kids table), and are surprisingly easy to make. Plus, they are reusable for next year! 
For this project you'll need: 
Flat-backed rhinestones

 

Mini chalkboard nameplates

 

Adhesive

 

Chalk

 
Again, you'll want rhinestones that complement the colors of your table centerpiece or overall table theme. As for the nameplates, these shouldn't be too difficult to find either at a craft store or online. They have become a more popular table accessory over the last couple of years. 
Wait until you've applied your rhinestones to add your names—you don't want to smudge your lovely handwriting! Carefully make a frame of rhinestones around the nameplate, then use chalk to add your guests names. Once you have your place settings set, add the nameplates to the top of each setting. 
You can either reuse them for next year, or you can offer them to your guests as a small parting favor.  
This Pumpkin Centerpiece is Lit 
Lucky for us, pumpkins come in all shapes and sizes, which make them perfect for creating a charming seasonal centerpiece for your Thanksgiving table. For this centerpiece, you'll want a variety of small to medium sized pumpkins. Them come is several different colors, but you can also paint them if you want to do something a little different. 
The centerpiece will be pumpkins, some greenery, and rhinestone-studded candleholders. Arrange your greenery on the table and then arrange your pumpkins, and then you can get started on your candleholders. 
You have so many choices in terms of the shape and style of candleholders, but we recommend choosing some that are shorter than your tallest pumpkin and have at least some flat surfaces. Depending on the size of your table, you may want between three and five candleholders. 
Using flat-backed rhinestones, glue the rhinestones along the top edge of the candleholder. This will not block the candlelight and will allow the light to bounce off of the surfaces of the rhinestones and enhance the sparkle.  
The Rhinestone Shop for Holidays 
The Rhinestone Shop has everything you could possibly need for Thanksgiving and the upcoming winter holidays, and now is the time to stock up! Be sure to check our huge inventory to find exactly the right sizes, shapes, and colors you need for your next sparkling project!