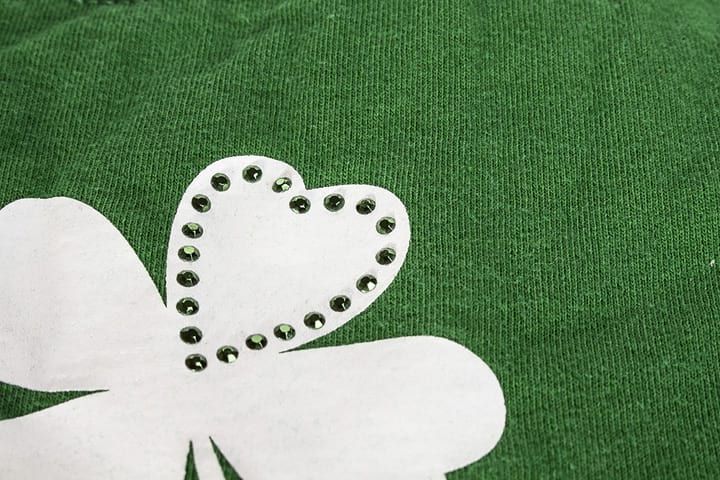 It's a lucky time of year when everyone gets to feel a little bit Irish, even if you're not. And of course, we've got some rhinestone crafts to celebrate St. Patrick's Day—like we need an excuse to bust out the sparkles. Without further ado, check out these fun (and sparkly) DIY rhinestone projects to bring a bit of green and good into your life.
Lucky Rainbow Sign
Bring a little bit of luck and color into your home with a rainbow and clover sign to hang on your door. You don't have to reinvent the wheel—you can even find a sign from a craft store that you like the shape of and paint over it with a white background.
Once you have a sign you like, assemble the following:
· Acrylic paints in rainbow colors (red, orange, yellow, green, blue, purple)
· Painter's tape · Four-leaf clover template
· Pencil
· Flat-backed green rhinestones
· Adhesive
The background of the sign should be painted with horizontal rainbow stripes, but if you're not a robot, it's nearly impossible to paint horizontal lines and keep them crisp and straight. Here comes our savior—painter's tape.
Carefully place painter's tape on either side of where you want the rainbow stripe to go then paint your rainbow color. Wait for the paint to dry and then pull the tape away. Feel free to change up the widths of your rainbow stripes for variety.
When all of the paint is dry, you can work on your rhinestone clover. Print your clover template and carefully cut it out. Place it in the center of your sign and outline the clover with a pencil.
Using adhesive, fix your rhinestones in the shape of a clover and hang your sign on your door for all to see!
Four-Leaf Clover Pencil Toppers
This easy project makes a cute gift for the kids to take to school. Make one for the teacher too!
You'll need to get the following:
· Stiff green felt
· Sharp embroidery scissors
· Flat-backed green or gold rhinestones
· Adhesive
· Green or gold ribbon · Clover template
Print a clover template for clovers about 1-1.5 inches wide and carefully cut. Use that as a template for your felt and use embroidery scissors to cut your felt. Embroidery scissors allow for detail work better than larger scissors.
Glue rhinestones to the felt clover in any pattern you choose, but don't make it too heavy that the clover can't stand upright.
Glue one clover to the top of a pencil. Cut two 4-inch pieces of ribbon for each pencil and glue the center of each piece of ribbon to the base of the clover. Finally, glue one rhinestone to the base of the clover to cover the center of the ribbons.
Shamrock Garland
Make a cute string of garland to hang in a window. This one requires a little bit of stitching.
To make this garland, start by using this shamrock template. Use shamrocks that are about 3 inches wide, and don't worry about the tiny stems. Using green felt, cut 16 shamrocks total.
Stitch two shamrocks together around the edge, leaving about a half-inch open. Stuff the shamrocks with batting, and then stitch the shamrock closed. Then you can add your rhinestones.
Add green or gold flat-backed rhinestones to your shamrocks as your heart desires. Use different shapes, or use varying patterns for each heart—you'll have 8 hearts total.
Once you're done with the bling portion of the project, you can stitch the shamrocks to ribbon. You'll need about 80 inches of ¼" ribbon, either white, gold, green, or orange.
Starting 5 inches from the end, stitch one shamrock edge to the ribbon. Every 8 and ¾", stitch another shamrock to the ribbon until you have a full garland. Then hang from a window!
Pot of Gold
An easy-to-make candy dish for golden chocolates that you can bring out every year. Who knows—maybe it will even lure out a leprechaun!
For this fun project, you'll need the following:
· Small terra cotta pot (3 inches wide at the top)
· Black acrylic paint
· Flat-backed gold rhinestones
· Gold glitter paint · Four-leaf clover template
· Adhesive
Paint the terra cotta pot black, inside and out, and let it dry completely. The upper rim of the pot is going to be completely covered in gold rhinestones. Since the pot is small, the smaller the rhinestones, the easier it will be to place them. Work your way around until the rim is covered.
The pot will have two four-leaf clovers on opposite sides of the base of the pot. Using 1-inch wide clover templates, use small gold rhinestones to make your four-leaf clovers. If you don't want an all-gold pot, you can always make a classic green clover.
If you're noticing gaps between your rhinestones and want to do a little bit of touching up, use your glitter paint to carefully fill in the gaps. However, you can avoid gaps by placing rhinestones in the "corners" of each other, not directly side-by-side.
Finally, get gold-wrapped chocolates and fill your leprechaun's stash for everyone to enjoy!
Festive Headband
We're not talking about those headbands with the wobbly antennae. Instead, this cute rainbow and shamrock headband is something that brings a little bit of charm without going over the top.
You'll need a thin headband to start, as well as thin rainbow ribbon and glue. Glue ribbon to one end of the headband, and carefully wrap the ribbon around the headband until it is fully covered. Snip the other end, leaving about ¼" excess. Glue and tuck in the end piece.
Use green felt and a four-leaf clover template (check out the pencil topper project). Cut out a clover that's about two inches wide, but if you want one that's a little bit bigger, go for it!
Glue the middle of the clover off-center of the headband. The final touch will be adding a fabulous green rhinestone to the center of the clover. Use an interesting shape to add your own spin on it!
The Finest Swarovski Crystals The Rhinestone Shop has an amazing selection of authentic Swarovski crystal rhinestones, tools, and accessories for all of your projects, no matter the occasion.